In this place open to the whole world, he devotes himself to the plastic arts (painting, drawing, lithography…). He welcomes artists from all horizons who are willing to improve their painting techniques in his den smelling the turpentine oil and the varnish. He can boast to have most of his paintings in Japan, Africa, USA, Canada, the UK, Germany, Belgium and of course in Corrèze ! One of them is displayed at the Elysée Palace in Paris, another in the Brive town hall. Some Parisian auctioneers (from the Drouot Auction rooms) have even gone so far as to estimate that regarding the dissemination of his works, René Boutang, "although still alive !" is well positioned on the art market.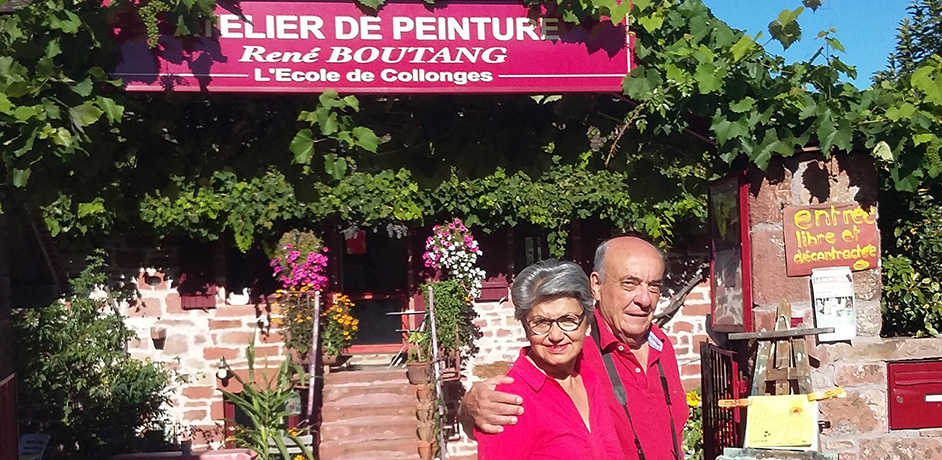 After numerous exhibitions in Paris (Grand Palais, City hall, galleries, gourmet restaurants…) and in the Provinces, René Boutang organises various charitable events : the Cystic Fibrosis Foundation, The Association des Paralysés de France… René Boutang has the time to write books on the painting and his work for the public … with a hint of pedagogy ! He is contributing his expertise to several associations : l'Amopa, le Rotary-Club, l'Alliance Française, la lutte contre la mucoviscidose, Ecti… He founds the Association 3A Arts et Artisanat d'art with some of his friends, also lovers of this exceptional region.
The Association 3A Arts et Artisanat d'art
3A is based in his living space : the paint shop. This association aims at gathering numerous visual artists and craftspeople from all backgrounds established in France to make Collonges-la-Rouge a major and wide open cultural pole. René Boutang is definitely willing to promote the expression of emotions to a wider audience, to improve the well-being for all.
His value is the combination of love and sharing, without moderation.
DARE TO SAY AND SAY AGAIN,
PURSUE OUR DREAMS TO THE UTMOST,
LOVE, SHARE AND HELP.
René Boutang is commandeur of the Academic Palms' order and member of the Salon des artistes indépendants.
Together we could satisfy better the visitors expectations who complain most about not hearing anything, not feeling anything, not seeing any more craftspeople and artists working in our villages … those villages being focused on the effects of seasonal activity business rather than their own historic and heritage values which represent the bearer of our culture and identity and which would generate obvious direct economic benefits.
From Easter to All Saints, the painter is in his paintshop or around : by the fountain with students also surrounded by visitors … You will see him dressed with his white blouse stained with paint drops of primary colours which he is so fond. It is a real pleasure for Laxmy and René to welcome visitors and an honour to share their stories with them : one through 3 different languages : french, english and indian
and the other with bold strokes of magenta, indigo, Prussian blue, Chinese black… the "universal language".
You can reach them easily over the winter months. If René is not away on a trip, he paints as he breathes !
" Meet René Boutang… go down a few steps and you will enter a bright coloured world. The artworks are competing for space… René is passionate… He has a great sense of humour, he contributes and supports numerous social causes through his art exhibitions.If you have the chance to go visit Collonges … Laxmy is a fantastic translator. Spend some time with this Master… "

Robert Seymour Bridges, University Professor, inventor, poet, painter
Collonges-la-Rouge attracts about 900 000 visitors every year. The Dordogne and some of its affluents (the Vézère and the Corrèze) run through this spectacular valley offering dramatic views of the surrounding landscape. Collonges-la-Rouge has created the association " Loveliest Villages in France ". Curemonte, Turenne and others have been listed among them. The 3 main tourist sites namely  Brive la Gaillarde, Sarlat and Rocamadour form Limousin, Quercy and Périgord, the house of truffles, the cepe mushroom, the vin de pays, the homemade bread…,
the sweetness of the art of living, the world renowned prehistoric sites … There you will often hear the regional language of Occitan, but also French, English with a southern accent.  Please contact the Vallée de la Dordogne tourist office for further information (stays, entertainment, guided visits,events, etc) : info@vallee-dordogne.com